On The Verge Cambridge
Planting Flowers To Feed Pollinators Across Our City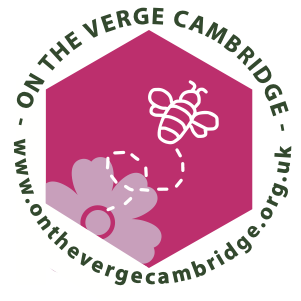 On The Verge Cambridge promotes the growing of nectar-rich flowers around the city. Our aim is to provide an abundance of food sources for pollinating insects which are in catastrophic decline. By providing joined-up corridors of food sources for pollinators we can help them feed without having to fly long distances. We can make the city of Cambridge welcoming to pollinators through simply planting miles of what they need. Increasing plant biodiversity in our city can have a positive impact on the insect population immediately.
ONE METRE MEADOW seeds - 1 packet £3.50 or 3 for £10 suggested donation (postage incl.)
Please use the DONATE button to pay for seeds and tick the Share Your Mailing Address option on PayPal. If you'd rather make a donation by bank transfer please contact us directly by email onthevergecambridge@gmail.com

How the project works
Following the successful blueprint of On The Verge in Stirling, On The Verge Cambridge works with the City Council, community groups, schools, businesses, local residents and other interested parties to identify areas of land suitable for growing nectar rich plants and wildflowers. We seek permission for use, organise the preparation of the land, raise funds to purchase seed and help with the sowing of the sites. We provide an aftercare plan so that the site will continue to regenerate year after year and provide a lasting legacy.
On The Verge offers a practical and simple pathway for members of the local community to take action to plant their local environment for the benefit of pollinators. We help local businesses and the Council fulfil their biodiversity pledges. We sell packets of seeds with full instructions on growing and harvesting to individuals who want to grow more nectar rich plants in their garden or start their own meadow. Administration of the project is undertaken by volunteers and is funded by donations and sponsorships.
Why On The Verge matters
There are many existing national projects aimed at improving the biodiversity in urban environments. We believe that the community-wide involvement and a practical, fully supported plan for the establishment of pollinator-friendly corridors using public and private land makes On The Verge unique.
Help make Cambridge a city rich in biodiversity and pollinators
Useful links
Sign the Make Cambridge Pesticide Free petition
Thistle Control in Grassland from The Wildlife Trust
OTVC Projects
So far we have worked in city parks, community spaces and on verges and roundabouts around the city. We are now developing a schools meadow programme.
Plantings
Cambridge Parks wildflower meadows
October 2019 OTV agreed to do the reseeding with a new native perennial mix. 1880m2 done as of 12.10.19
🌻Parker's Piece 680m2 5.10.19
🌻Trumpington Rec 400m2 12.10.19
🌻Coleridge Rec 230m2 wildflower turf
🌻Ditton Rec 100m2 12.10.19
🌻Chesterton Rec 200 m2 12.10.19
🌻King's Hedge Rec 400m2 12.10.19
🌻Browns Field Community Centre 100m2 12.10.19
🌻Barnwell Verge 400m2 6.11.19
Our list of projects at proposal stage is growing but so is our list of projects underway.
School Meadows Programme
If you think your school would be interested in our help to create a meadow, please contact Jo Scrivens at onthevergecambridge@gmail.com
The project is very flexible meaning that your school can be involved as little or as much as you like. If you prefer minimal involvement of staff/pupils but would still like a wild flower meadow, On The Verge Cambridge (OTVC) can provide that. If you would prefer staff and pupils to be involved, there are opportunities for:
measuring out the site and marking it.
helping with the ground preparation
measuring out the plot in square units ready for seed sowing
weighing out the seed and sprinkling it in unit squares
collecting seeds for further sowing in the Autumn
There are also many educational resources we can direct schools towards. These include:
Buglife b-lines teaching resource pack
Pollinators and Poetry
Exploring sounds diversity with a pollinator focus
How plants attract pollinators
How to create a pollinator home
A bug-hunt
Making maths buzz
Biodiversity in Schools - teaching resource
What is biodiversity?
Why is biodiversity important?
Why is biodiversity in danger?
Partners
OTVC works in partnership with officers in biodiversity, ecology, trees, schools, highways, verge management, cycling, open spaces, climate and environment, in the various departments across:
Cambridge City Council
Cambridgeshire County Council
South Cambs County Council
We also benefit from financial support and guidance from:
Keep Britain Tidy
Close working partnerships are key to achieving our aims.