On The Verge Cambridge
Planting Wildflowers To Feed Pollinators Across Our City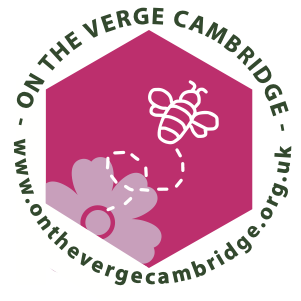 On The Verge Cambridge promotes the growing of nectar-rich wildflowers around the city. Our aim is to provide an abundance of food sources for pollinating insects which are in catastrophic decline. By providing joined-up corridors of food for pollinators we can help them feed without having to fly long distances. We can make the city of Cambridge welcoming to pollinators through simply planting what they need. Increasing plant biodiversity in our city can have a positive impact on the insect population immediately."

How the project works
Following the successful blueprint of On The Verge in Stirling, On The Verge Cambridge would like to work with the City Council, community groups, schools, businesses, local residents and any other interested parties to identify areas of land suitable for sowing wildflowers. We seek permission for use, organise the preparation of the land, raise funds to purchase seed and help with the sowing of the sites. We provide an aftercare plan so that the site will continue to regenerate year after year and provide a lasting legacy.
On The Verge offers a practical and simple pathway for members of the local community to take action to plant their local environment for the benefit of pollinators. We help local businesses and the Council fulfil their biodiversity pledges. Administration of the project is undertaken by volunteers and is funded by donations and sponsorships.
Why On The Verge matters
There are many existing national projects aimed at improving the biodiversity in urban environments. We believe that the community-wide involvement and a practical, fully supported plan for the establishment of pollinator-friendly corridors makes On The Verge unique.
Help make Cambridge a city rich in biodiversity and pollinators